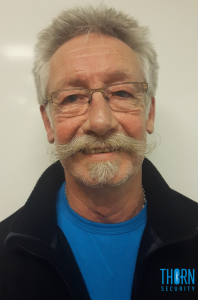 Thorn Security is pleased to welcome Rene Glenn to the Thorn Security team as Security Advisor. Rene comes to us with 10 years security alarm experience at Price's Alarms and then a short period at Telus Custom Security Systems. Serving customers throughout the Victoria market for more than 30 years at Price's Alarms, Columbia Fuels, Esso Home Comfort, and more, Rene is used to meeting customers at their home or business and delivering the right solution to meet their needs.
In the case of security systems for residential and commercial customers, its on-site service like Rene provides that sets Thorn Security, and previously Price's Alarms apart from competitors. While some security alarm companies feel that customers should select a standard system from a website, we believe that security is about life safety, property protection and peace-of-mind. Therefore it deserves the attention of a skilled advisor to recommend the most appropriate solutions.
"I would love the opportunity to earn your business"
Rene Glenn is licensed in British Columbia as a Security Worker and you'll likely remember him by his handlebar moustache. When Rene isn't out switching customers to Thorn Security, you might see him out on the ocean fishing for salmon or halibut.
One thing is for certain, we welcome any previous customer of Price's Alarms who is searching for the family-owned security approach to switch to Thorn Security. We are easy to reach, are responsive and helpful, always on time, experienced, and provide great value for your continued safety and peace-of-mind.
Thorn security is family-owned and run by Dennis and Stacey Baggett from Victoria – we are growing rapidly fuelled by changes in the Island security market and we continue to add talented teammates like Rene Glenn and others who believe that service is what makes great companies.
Please call us and schedule a time for us to come and see you and show why we are different and how much we would like the opportunity to earn your business. Real Security – from the Island's Security 24/7 – Thorn Security.