Enhance your Home Safety and Awareness with Alarm.com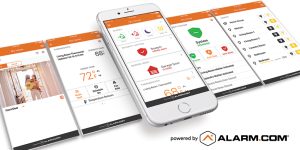 In an increasingly interconnected world, ensuring the safety of your home and loved ones has never been more important. With advancements in technology, residential security services have evolved beyond traditional alarm systems. One standout solution in this field is the Alarm.com Residential Security Service. This comprehensive platform offers homeowners not only heightened security but also increased awareness, control, and peace of mind. We could literally talk about Alarm.com service for hours discussing all of the features and benefits. This simplified explanation covers why you should choose this as your standard security service from Thorn Security.
The Power of Smart Home Security
Alarm.com from Thorn Security takes security to the next level, integrating control and awareness into its residential security service. This system combines various components such as motion sensors, door and window sensors, security cameras, smart locks, lights and even thermostats, all seamlessly connected. This interconnected network creates a holistic security ecosystem that ensures no corner of your home is left vulnerable.
Enhancing Safety:
24/7 Monitoring: One of the standout features of Alarm.com is its 24/7 professional monitoring service. This means that even when you're away or unable to respond, trained security professionals are still keeping a watchful eye. In case of a breach, fire, water leak, or other emergencies, they can promptly dispatch the appropriate authorities. Monitoring provides better, safer, security service.
Real-time Alerts: Alarm.com's system sends instant notifications to your smartphone whenever any unusual activity is detected. Whether it's a door opening, motion detected, an alarm triggered, or even a person or animal walking down your driveway. This real-time awareness empowers you to take swift action, if appropriate, no matter where you are.
Remote Access and Control: With Alarm.com, you're not tied to your home when it comes to managing security. Using the mobile app, you can remotely arm or disarm your system, lock or unlock doors, and even view live video feeds from your security cameras. This level of control lets you respond to changing situations and control access, even when you're miles away.
Promoting Awareness:
Video Monitoring: The inclusion of security cameras in the Alarm.com ecosystem adds an extra dimension of awareness. You can check in on your property at any time, ensuring that everything is as it should be. Additionally, recorded footage provides valuable evidence in case of any incidents.
Activity History: The system keeps track of various activities around your home, such as when doors were opened, when motion was detected, and even when your security system was armed or disarmed. This activity history log offers a detailed overview of what's happening when you're not around.
Environmental Monitoring: Beyond security, Alarm.com also offers environmental sensors that can alert you to potential issues like water leaks or high carbon monoxide levels. This broader awareness contributes to a safer and healthier home environment.
Peace of Mind, Anytime, Anywhere:
In today's fast-paced world, the ability to monitor and control your home's security remotely is a game-changer. Alarm.com not only helps prevent emergencies but also empowers homeowners with the tools they need to respond effectively when the unexpected occurs.
By leveraging the latest advancements in smart home technology, Alarm.com's Residential Security Service provides a comprehensive solution that ensures the safety of your home and loved ones while fostering a greater sense of awareness and control. With real-time alerts, remote access, and professional monitoring, homeowners can experience true peace of mind, knowing that their home is secure, even when they're not physically present.
Enhance your Home Safety and Awareness with Alarm.com. Connect with Thorn Security to discuss your home security and find out about other unique alarm.com features that may be beneficial for your unique situation or lifestyle. Oh, we should mention that Alarm.com isn't just a must add-on for residential situations, commercial service is also available with its own unique group of features and benefits.