Deter – Delay – Detect – Respond.
The security industry has had a mantra for a very long time, and it still holds true today. Many people ask whether having a security system actually works and the answer is a clear and resounding YES! The key to providing security can be summed up as D.D.D.R. which stands for Deter, Delay, Detect and Respond. 
Deter – Delay – Detect – Respond
Deterrents come in many forms but the message is that thieves should go try somebody else who is easier. Deterrents include many of the exact same items whether protecting a residential or commercial property. Take some time and walk about your property and have a look at how inviting you might look to thieves.
Lighting: Thieves lurk in the shadows and don't like to be seen searching for a way to enter your property. You don't need to light the outside of your property throughout the whole night. Using motion activated lighting (MAL) not only saves you money but also draws attention to activity as it happens.
Landscaping: Landscaping makes every property look better but can also provide cover for bad people up to no good. Privacy from neighbours and the street is great but if somebody is climbing through your window, you want everyone to see them and wonder why.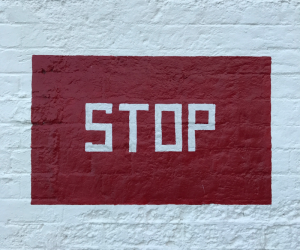 Security: Security comes in many forms from security alarms to big loud dogs, cameras, gates, bars, window films and lighting. The more security you have, the less likely that somebody is going to try to steal from you. It just isn't worth the risk!
Signage: This is the easiest deterrent of all. Thorn Security signage and decals displayed prominently, tell thieves that they should go try someone else. Decals come free with your alarm system from Thorn Security and we suggest making them very prominent. Put them everywhere that is visible including out in your yard near the road as yard signs. Once your property is protected with a security system, signage lets the thief know to go elsewhere. Most break-ins to businesses are crimes of opportunity. You have something they want, and they think it will be easy to get it. Security decals are the first message that criminals see to suggest it may not be as easy as they think. Prominent security decals displayed at your home or business say "Think twice before stealing from me".
Security camera systems are another great way to deter a break-in but only when in addition to your security system and decals. Have a look at what your property says to criminals? Are you clearly marked as having a security system from a reputable alarm company?
Deter – Delay – Detect – Respond
Many people say that thieves will get what they want no matter what you do, but that isn't true. If you make it easy, they'll get what they want. If you make it difficult, they'll move on to something easier.
Close your doors and windows and make sure to lock them. It sounds simple but recent data shows that 1/3 of break-ins happen through open doors and windows.
Steel door frames that make your door harder to kick in also provide a strong message that this isn't going to be easy.
In commercial situations, bars on the windows or security films may be an appropriate level of security, making it very tough for thieves to enter your property.
Window stops and locks on patio doors also work well to delay thieves from getting inside.
When thieves want something of yours, the longer you delay them from having it increases your chances that they will give up. In the case of a property with an alarm system, hearing the whaling siren prior to gaining entry puts the pressure on them to get inside fast or run. Every second you can delay thieves helps.
Deter – Delay – Detect – Respond
These two are our specialty at Thorn Security. Our custom security solutions are designed for your specific needs to detect somebody breaking into your property and we respond with sirens, flashing lights and guards or police. Thieves know when they hear the security system siren that somebody is being notified and it won't be long. It might be the police coming or it might be a neighbour, they might be close or far away, it might take twenty minutes or two but somebody is coming. The thief must quickly figure out when he should start running. Without detection and response, thieves take their time and search through everything looking for anything valuable.
Deter, Delay, Detect and Respond works – pay attention to all 4 components of security and you'll keep everything you've worked hard for safe. Your Peace-of-Mind will allow you to sleep easy. Contact Thorn Security to schedule your no-charge security consultation with a licensed Security Advisor.